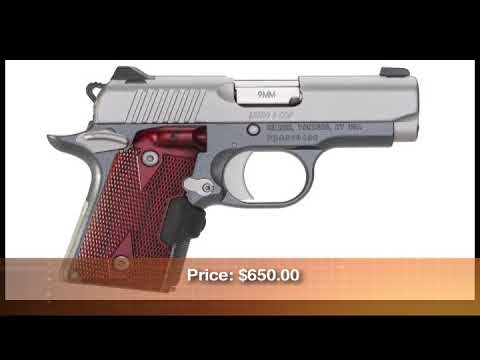 A 9 mm chambered 1911-style pistol that is just the right size for easy carrying.
It is a hammer-fired semiautomatic pistol with a capacity of 6 plus 1.
The barrel is 3.15 inches long and 1.06 inches wide.
Its height is 4.07 inches and it weighs 15.6 oz.
The Kimber Micro 9 is finished with an aluminium frame and steel matte-black slide.
It has fixed, low-profile sights and has a grip of rosewood color.
The trigger was tested at 7 lbs for single-action.
In the US, it retails for $650.
On the range:
Experts found the Micro 9 small enough for pocket carry.
The single-action trigger was also smooth and clean and actually felt lighter than 7 lbs. because of the short, sliding trigger that is the hallmark of the 1911.
At 25 yards, the average group was about 4.5 inches. Other pistols clearly outperform this pistol in accuracy, but for its size and with a short barrel of 3.15 inches, gun experts found it not too bad for a miniaturized 1911. This is because pistols of this size are manufactured for distances not exceeding 7 yards where they are most accurate.
Over-all, the Kimber Micro 9 is an excellent pistol with its ease of carry, shootability and its 9 mm chambering.