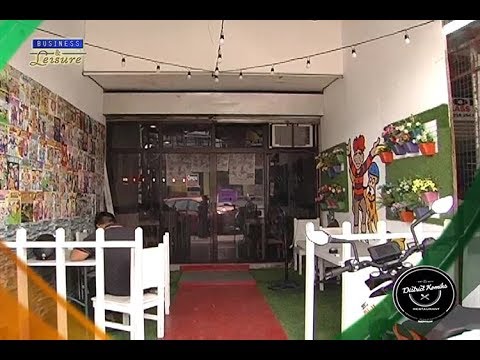 Antipolo has always been known for its old attractions like the HinulugangTaktak for instance. Years and years ago, Antipolo was everyone's destination come May 1 to hear mass and then feast on lechon sold on the road side, buy some freshly roasted casuy nuts and of course bunches of its famous sumansaibos.
Well, the tradition is fast fading with the young folks although a few still go through the long trek when May 1 comes. The casuy nuts and suman are still there, but what is taking the fancy of many foodies now are the many new restaurants that have sprung to life in this city. B&L checked out these new restaurants and discovered this cute restaurant that honors a long lost but much-loved tradition.
This is District Komiks Restaurant, and as you may have guessed from the name, it features loads and loads of komiks in mint condition. Enter and check out the walls, all plastered with the familiar characters our parents grew up with. Archie, Jughead, Veronica and Betty come to life on these walls. Even Popeye and Kenkoy from our grandparents' days liven up the walls with their colourful characters.
The restaurant is playful and nostalgic enough to recreate a portion of a white picket fence at the entrance. White chairs and tables like those you see in children's parties are used here, and the ceiling is likewise given a playful treatment with colourful umbrellas and bottles lit with LED bulbs hanging overhead.