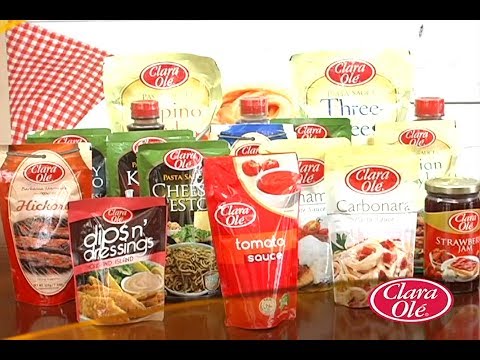 Clara Ole may sound like a foreign brand, but it is definitely a home-grown brand that is becoming a friend to many Filipino households because they are ready to use and very flavorful. Think instant meals when there isn't much time to spare, and think trendy meals that everyone loves.
Clara Ole is actually a spin-off of the mother company, Sysu International Co., as we learned from Ms. Johanna Juban, the Group Brand Manager of Clara Ole. Sysu actually started way after World War II, in 1948, by its founder Ruben Sysu, a Filipino of Chinese descent. He started Sysu as a trading firm with two other partners.
From a small trading firm, Sysu forged partnerships with big American food brandsand in the 1970s, the company has started its nationwide distribution.
The company noted that the Philippine market was slowly maturing, opening up to new taste profiles that include other cuisines like Italian and Spanish, for instance. In the twenty years that it has been in existence, the company has been steadily introducing more innovative products in the market. Their logo and eye-catching packaging look are now mainstays on the shelves of many large supermarket chains.
With a growing local market, can export be far behind? Definitely not, at least as far as Clara Ole is concerned. They now have direct exporters from Saudi Arabia, Brunei, Japan, Guam, Dubai and Qatar. In Brunei, specifically, Clara Ole has been making waves even among the locals. Definitely, the company is on the right track.
We asked Johanna where she thinks Clara Ole will be in the next five years. More than focusing on target growths, she said that the company is more fixated on improving the brand even more and keeping the growing Clara Ole users happy and staying in tune with the times.
Clara Ole, the brand, does not seem to rest. Aside from developing more new products, they also participate in industry events to strengthen the brand name. As the vision of the company slowly becomes more apparent, the company continues to go places with giant strides.