Passenger Seat Restaurant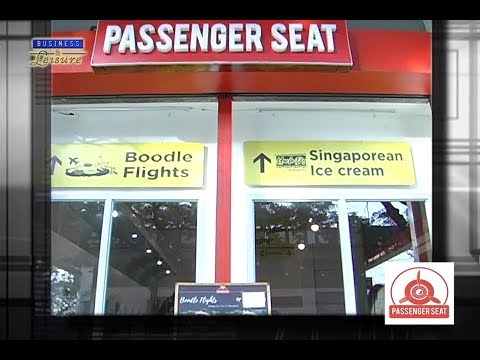 Mariae (MA-RI-YEY) Habijan (HA-BI-HAN) owns this new restaurant in Marikina City, one of the many restaurants lining the new food street in this city. She is quite a story teller.
Mariae loves to travel but realized soon enough that her dream of becoming a flight attendant wasn't the right calling for her. As fate would have it, she read in a magazine one day about an airplane-themed restaurant in Taiwan, and that lit a light bulb in her wandering mind.
Mariae's mom is a businesswoman. The family owns a small school in Marikina as well as a bus company and a printing business. The mother eventually came to her daughter's assistance and helped her put up this restaurant they call Passenger Seat.
The interiors of the restaurant easily calls to mind images of an airport and the interiors of an airplane.
Mariae had no background in the culinary arts, so she took out to have a culinary degree before she opened her own restaurant, a simple one that caters not to the elite.
The restaurant was a novelty in this area where there are more bars than restaurants, and the interiors certainly worked well for the residents of Marikina.
Without any background in managing a restaurant or any business for that matter, Mariae found that the challenges of owning and running something like this was full of challenges that she herself had to surmount.