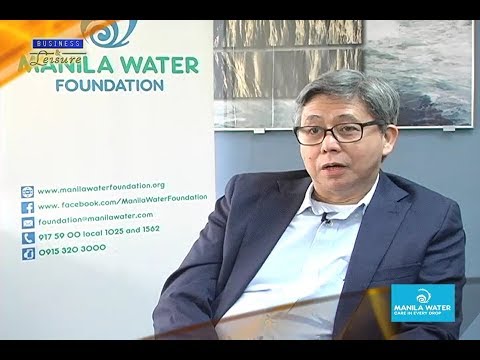 Manila Water Company, as everyone knows, is into water distribution, but this Ayala company has a corporate social responsibility arm that takes its business operations beyond pesos and centavos.
The Manila Water Foundation actually started in 2005 essentially taking over projects started by its mother company, Manila Water Company. However, it was only in 2013 that it started evolving into a full-blown foundation, as shared by Mr. Ding Carpio, the foundation's president.
According to Mr. Carpio, the projects of Manila Water Foundation evolved from various initiatives within the Manila Water Company, starting off as a CSR component, later developing into a fully developed foundation. One of these projects is the Tubig Para sa Barangay which the foundation inherited from the mother company. Here, the foundation delivers water to under-privileged communities and the program has been so successful that it has been made into a case study by business schools abroad.
Manila Water Company also has Lingap Programs which the foundation has adopted. Here, the Foundation provides clean and safe drinking water and sanitation facilities to schools, communities and even city jails. These are some of the program that the foundation inherited from the mother company. However, the foundation itself has since initiated some CSR programs on its own, like the AhonPinoy which is a bigger version of the Tubig Para sa Barangay and Lingap Programs.
Sanitasyon Para sa Barangay is a related program where the foundation provides public toilets operated and maintained by the chosen communities in a sustainable manner. Indeed, Manila Water Foundation knows the problem of setting up a beneficial system for a community but sustaining it is a problem once they leave. The sustainability part of all these is what they aim to fulfil.