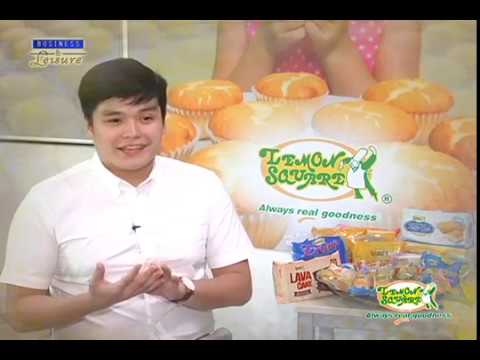 This logo of Lemon Square is recognized by almost all Filipinos who may have had it for a flavorful snack at many points in their life. This is a company that has been around for thirty years now, and it is interesting to hear its story from the second generation member of this family-owned enterprise.
This is EJ Vergel de Dios , Marketing manager of Lemon Square and son of the owners Nina and Errol Vergel de Dios.
EJ graduated with a degree in Business Management and it is not hard to see how and why he ended up with the family business.
EJ's parents married in 1985 and stayed in the family compound in Valenzuela, Bulacan. As EJ narrated, his Mom worked in the corporate world in Makati, a good distance from their residence, so his Dad encouraged his Mom to quit her job and instead focus on her first love which was baking.
For thirty years now since they started, their original product, the cheesecake has been the quintessential Pinoy favourite among the baked snacks of Lemon Square. The founder, Nina, personally loves the lemon flavour, and her favourite was always the lemon square, and that explains her choice of name for the bustling family business.
From a one-woman business, Lemon Square eventually hired two or three bakers and a couple of sales persons. Eventually, they had to hire more people, and the family of Errol Vergel de Dios eventually purchased a bigger lot in Meycauyan to house the growing business. to what it is now.