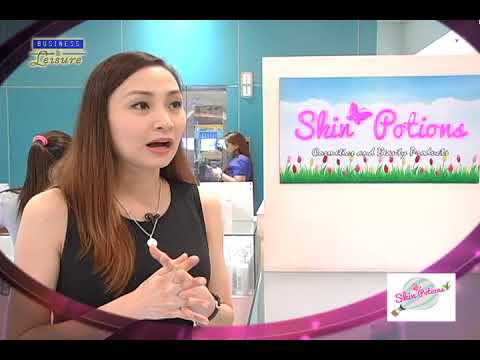 This is the wide range of cosmetics and beauty products of Skin Potions Cosmetic and Beauty Products. At first glance, they do not look like most of our locally made products because of the excellent packaging and eye-catching names.
Meet Aileen Sison, a co-owner of Skin Potions. You will get to meet the other half a bit later. Aileen used to be a flight stewardess for PAL and Etihad Airways and flew for nine years before the entrepreneurial bug bit her. Her sister Jonahleen actually started the company.
And sister Jonahleen corroborates this story.
According to Jonahleen, she did not have a problem with marketing their products from the start. Her friends who tried her products offered to be her resellers when the products they tried worked well for them. So how did Skin Potions actually start?
With the global trend towards organic or at least natural products, the two sisters couldn't have made a better choice. The market, especially the younger set, embraced their products wholeheartedly.
From starting out just four years ago, they have developed quite a long range of cosmetics and beauty products.
They also have something for scars and pimple marks that soothes and lightens called Magic Balm.
Starting out just four years ago, it is qctually an amazing feat for the two sisters to have developed so many product lines and four kiosks, all in SM in just a short period. Like many start-ups, they started out in the bazaars.
Up to now, they still look back at how all those bazaars helped launch their products in the local market. In fact, up to now, they still participate in bazaars even if they already have their kiosks.
And like many others, the idea of franchising also came to them. In all of the bazaars they participated in, many of their customers would ask them if they were open to franchising.
They will soon open new kiosks in SM Batangas, SM Bacolod and Robinsons Tuguegarao.
That is Jonalyn's honest criterion for her possible franchisees, apart from the capacity to come up with the initial investment of course.
Things are starting to look much brighter for Skin Potions, and the challenge for Jonahleen and Aileen is to step up and slowly increase the local awareness for their product lines. They originally targeted the millenials, this generation that seems to be quite fixated on cosmetics and beauty products. However, the parents of these millenials are also now their new clients, so word of mouth has really gotten around.
And her advice to would-be entrepreneurs?
The Skin Potions products are so pretty they are actually eye candies for ladies. Check out the different variants of soaps and the catchy names they came up with like Watermelon Pop , and Melon Berry and Acne Pie Soap.
They have aloe vera and this interesting lip balm called sorbet lip scrub which is made from strawberries and raw sugar. One is supposed to scrub this lightly on the lips for fuller lips before scrubbing the raw sugar off.