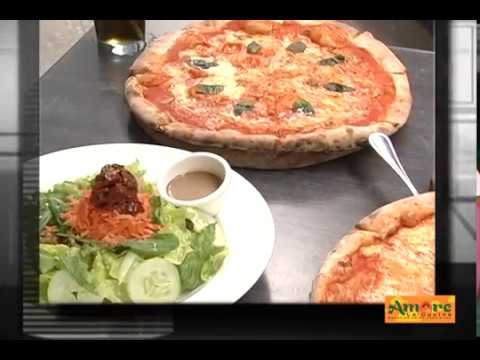 Edmark Bustos, a native of Baguio City, is a nurse by profession. He took up Nursing at the time when it seemed to be a lucrative profession for Pinoys who dreamt of making it big in America where there was a big demand for nurses. But when he graduated, there was already a glut of nurses abroad and nursing jobs were scarce especially in the U.S. where he stayed for a while searching for a job. This was where he was able to rediscover his real passion.
Some of his friends who took him and his young wife into their homes had stacks of cookbooks. He had time in his hands so Edmark whipped up dishes from whatever could be found in the refrigerator.
But he didn't end up doing that. Instead, he went back home an opened a small dining place with a take-out counter and a very lean staff of four.
Unfortunately, he was forced to close his small restaurant because the other residents were complaining about the growing traffic in their residential area. He found another space that measured only 100 sq. meters. Friends and family donated tables and mono block chairs to help him get started, and then he was well on his way.
After only 6 months, customers started pouring in and slowly, Edmark started growing his operations with more personnel, none of whom had any culinary background. Word of mouth combined with dedication and passion got the ball rolling for Edmark.
Amare La Cucina, the name he chose for his restaurant, literally means love the kitchen in Italian. He specializes in great Italian food, and with no culinary background at all, his success in the kitchen is nothing short of amazing.
Amare La Cucina did so well in Baguio City where residents and visitors line up every day just to get a table that he knew he found his niche. This one in Bo.Kapitolyo is now his second branch.
This is probably because he made the Amare La Cucina a great dining experience.
There are now quite a few Italian restaurants in town and Edmark knew he had to make a difference. Mos of these Italian restaurants have the right ambience, the right food offerings, but Edmark's Amare La Cucina offers something more than just the food. They are offering a unique dining experience as well.
These kids are having the time of their lives doing pizza from scratch.
A pizza expert is always on hand to guide them every step of the way.
Here this pizza maker expertly throws up the dough to show the kids, and us, how to do it right.
After spreading the sauce on the prepared pizza dough and topping it with the cheese,
it's time to bring it into the brick oven.
What is great about having such a large oven is one can pop in so many other dishes as well like these juicy, tender ribs which, Edmark says, was his Dad's idea. What is also surprising is how fast a pizza can cook.
After 2 to 3 minutes, the pizza can be taken out of the oven, the cheese bubbling and the crust crispy on the edges.
The sense of humor is just part of the fun that Edmark injects into the Amare La Cucina dining experience. And here, Edmark has prepared a spread of Amare La Cucina's best sellers. (video)
Amare La Cucina can accommodate as many as 160 hungry diners, and the place is open for events as well. With the success of his two restaurants, Edmark hopes to open one in Clark and perhaps in San Juan, La union in the very near future. For residents in the metro, your best best for now is this one in Barrio Kapitolyo.
That was our feature this week here in Places, Amare La Cucina in Bo. Kapitolyo in Pasig