BOC BIR Joint Anti Smuggling Units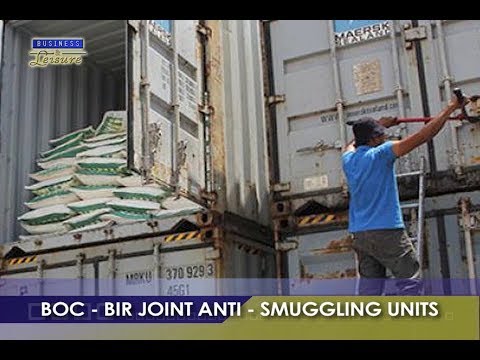 For this next business issue, joint Anti-Smuggling Units are set to be formed by the Bureau of Customs in coordination with the Bureau of Internal Revenue. This is in compliance to the directive of the Dept. of Finance.
All district directors of the Bureau of Customs were directed by Customs Collector Isidro Lapena to form Joint Anti-Smuggling Units in their respective areas in coordination with the Bureau of Internal Revenue. The Customs Chief is targeting erring importers, brokers and BOC personnel after the Dept. of Finance issued orders to intensify anti-smuggling efforts especially in the provinces or regions.
Most of the illicit trade happens outside Metro Manila, so DOF Secretary Carlos Dominguez directed Customs Chief Lapena and BIR Commissioner Caesar Dulay to focus on rice, fuel, steel and cigarettes. Food and agricultural products like chicken, onions and garlic will also be carefully watched.
One of the most recent interceptions made by the Bureau of Customs where it seized P25 million worth of smuggled goods from several shipments. These contained agricultural products, liquor and auto and aircraft parts. The Bureau also seized 18 luxury vehicles with a total value of P108 million but which were undervalued at only P32 million. These two interceptions happened at the Manila International Container Port. Customs Chief Lapena has instituted changes in the Bureau to curb corruption. Among these is the one assessment/no sectioning policy to erase the "palakasan" and "suki" system. Previously, the Bureau's Assessment Division was divided into 15 sections per commodity. He is also implementing the "anti-fixer campaign at the Customs' Accounts Management Office. Customs Collector Lapena has already relieved or reassigned 116 customs personnel under his One-strike policy. Included here are 10 district collectors, and because of these measures, the Bureau collected P42 billion in October alone, the highest in the Bureau's history. The Ports of Manila, Batangas and the Manila International Container Port also registered their highest collection rates during this period. In Sept. of this year, collection reached P40.26 billion, also a big improvement from the monthly average collection of P35 billion. At the top of his to-do list at the Bureau is to weed out corruption , and this he intends to do by removing the "tara" system and implementing the "no gift, no-take" policy. LiFestyle checks will also be done on Customs personnel.
Customs Collector Lapena has a five-point program. Aside from stopping corruption and increasing revenues, he intends to facilitate trade, strengthen anti-smuggling efforts and enhance personnel incentives, the rewards system and compensation benefits for BOC personnel.