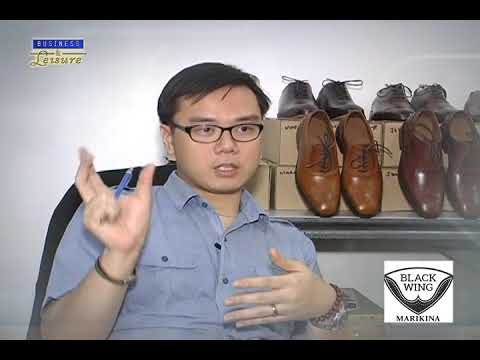 Meet Mr. Buddy Tan, owner and manager of Black Wing Shoes that are proudly Marikina made.
Buddy graduated with a degree in Political Science and worked with several of our politicians as a freelance consultant on the grass root level, rubbing elbows with fisherfolks and farmers. Before that, he worked in a bank and in a few IT firms before he decided to join the family business.
Buddy focused on the big shoe brands that were coming into the country and came up with styles and designs to rival these in terms of value and fashion. Actually, Buddy started out making leather sandals to compete in the luxury leather market, but these did not do well and he turned his attention to shoes.
This was the time when everyone was into mass production of easy to produce styles. Buddy did not want to go into that direction, so he studied the European and American brands, watched the videos of their factory tours which included the process of luxury shoe making and decided he could incorporate these ideas into the local market.
His workers eventually relented and followed his ways. The first pair they made was for his wedding, and he was surprised that he could wear the leather shoes the whole day without much discomfort.
It is a fact that the average Filipino guy puts a whole lot of premium on comfort, so many are averse to wearing leather shoes on a regular basis. Buddy wanted to dispel this notion and set about to make leather shoes that are as comfortable as sandals.