More Funds for Filipino Farmers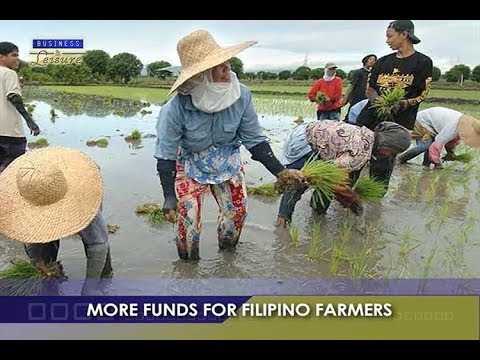 The Filipino farmers can look forward to more government support. The House Committee on Appropriations finally approved the funding provision of a bill tht will strengthen the Philippine Crop Insurance Corporation of PCIC.
With the approval of more funding for the Philippine Crop Insurance Corporation, the agency will now strengthen its capability to give farmers additional government support for enhanced agricultural production. The Revised Charter of the Philippine Crop Insurance Corporation was initiated to ensure food security, intensify agri production promote agri credit and effectively broaden the coverage of mandatory crop insurance. The substitute bill amending a provision of this bill is more beneficial to our local farmers.
The Filipino farmer and fisherman will now be covered with life and accident term insurance. The Board of Directors of PCIC will determine this. As to the crop insurance, this will be worth the amount of the production inputs, the value of the labor of hired workers, and a portion of the projected value of the crops.
According to sources, the new bill is seen to improve the capability of banks and other financial institutions to give loans to farmers and fisherfolks. Insurance provided by PCIC will also cover government-financed agrifishery, forestry projects nd government-owned properties and facilities used for these projects. Reinsurance coverage for these properties and facilities under the private ad government insurance companies will also be ensured by PCIC. However, PCIC will require the participation in crop insurance of all palay growers and other crops vital to food security. Under the supervised credit program, all farmers securing production loans under the supervised credit program will also be required to participate in crop insurance.
As for self-financed farmers, they too will be covered if they put themselves under the supervision of agricultural-production technicians. Subsistence farmers who are cultivating not more than 7 hectares of farmlands and fishermen cultivating not more than five hectares of fishpond, sea weed oyster or mussel farms will be given premium subsidy from the government. The premium rates, according to PCIC president Jovy Bernabe will be reasonably affordable.