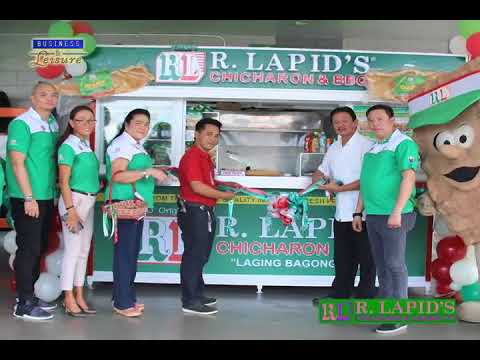 Mr. Rey Lapid is from the famous chicharon clan of the Lapids. The clan has had numerous offshoots in the Lapid chicharon business, but it was Rey who made it big and whose name became synonymous with good chicharon. His company is named after him: R. Lapid's Chicharon & Barbecue.
Rey, the man behind the name, is a raconteur, and from him we learned how they started so modestly, with only Rey and his wife buying, cooking, packing the chicharon and selling the simply packaged bags of chicharon everywhere. Now, his children are all grown and he has expanded his business exponentially.
Their first processing plant was in Manila back in the early 80's. He rented two of the twelve-unit row of apartments as his make-shift processing plant. Before long, he was already renting eleven of the twelve units, some of which housed his employees.
This is indeed one of the woes of start-ups. Because the business is just starting out small, there is usually no permanent assets to speak of and renting is the only option. Being tenants, they are usually at the mercy of the landlords.
From two large cooking vats or what we call "kawa" in the vernacular, Rey know that he has almost forty of these giant kawas now currently in use in his large processing plant, in a building which he already owns, in an area where he keeps expanding his permanent assets.
And this is the giant chicharon that he is talking about. From this short piece of meat, it grows to this long, long whole chicharon, a novelty items ideal for get-togethers. Because he is in the food business that involves frozen meat, there is always a need for cold storage facilities, but Rey has learned his lesson about renting. Now that the company can well afford it, he has built his own cold storage so he does not depend on other facilities, much less rent space from them. He also continuously upgrades his facilities.
From his modest start, Rey now has 100 outlets, 85 of which are company-owned, and the rest as franchises. He supplies pork to many other companies, and because he already has 400 employees and counting as of now, he has decided to build a condo building for his growing crew.