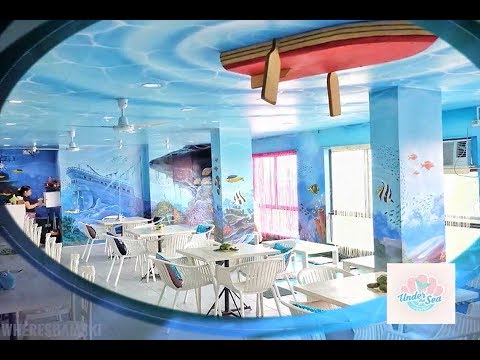 This is Maginhawa St. in Quezon City. It has become a food hub for many people seeking new concepts in restaurants. And this is Under the Sea Cafe. From the name alone, one will know what to expect in this themed restaurant.
We talked to Under the Sea Cafe's marketing Manager, Ms. Dahrreen Dominguez and asked how the owners thought of putting up this unique restaurant.
Indeed, they have transformed the interiors into a wonderland under the sea. The colors of blue and green are dominant here, duplicating the colors of the sea and giving it a very calming, relaxed ambience.
This cafe opened only last August 25. Since then, many parents have discovered this magical place to bring their children to.
These kids have a grand time with their colourful mermaid tails. Dahreen says anyone can try on these mermaid tails for free-just purchase P150 worth of food or drinks from the menu. They have a grand time posing for photos with their mermaid tails on, sitting on this giant clam.
Even grown-ups, it seems, are not immune to the fun side of this cafe.
They have been open for only about two months, but many have discovered this new cafe in Maginhawa St., thanks to social media.
It seems that experiencing how it is to be a mermaid for a day is such a fun experience for the day. They can also sit in wonder at the ceiling and the walls, all painted with the wonderful creatures of the sea and let their imagination fly about Nemo and his friends, about pirate's ships and all the colourful creatures under the sea.
The place can seat 54 to 60 people, and they are open from 12 noon to 10:00 p.m. You can choose to sit with friends at a table, or sit on comfortable cushions on the floor.