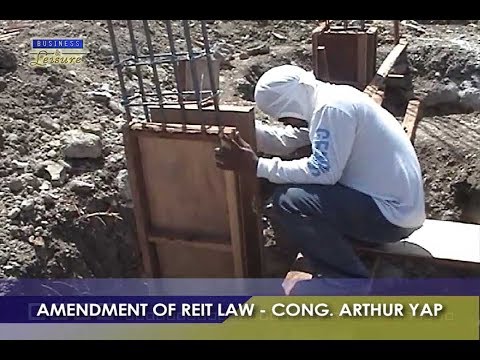 Congressman Arthur Yap of Bohol wants to amend a portion of the real estate investment trust law. In particular, the Bohol representative wants the existing law to be exempted from value added tax.
The Real Estate Investment Trust orREITLaw was signed into law in 2009, and it was the House of Representatives economic affairs committee that spearheaded the passage of this law. Congressman Arthur Yap is the Chairman of the economic affairs committee and he wants to amend a portion of this law.
The Bureau of Internal Revenue is said to be working hard on their interpretation that the first transfers of assets into the REIT is vatable. However, the Congressman believes it should not be. Industry players believe that it is only the big boys such as the Ayala Group and the SM group that can muster the transfer of their assets into the REIT because they have the larger projects. Our bzwatch correspondent has more details.
Leechiu Property Consultants is one of those industry players who posed their reservations. According to the company CEO, Mr. David Leechiu, "yes, you can buy P400,000 socialized housing, but that market is not a reliable rental market. Collecting from that market is very hard." "The REIT's biggest advantage is to take the unpredictability of the stock market out of the investment equation."
Earlier, officials of the Philippine Stock Exchange tried to convince the Duterte administration to amend the REIT law's implementing rules and regulations or IRR to make it more attractive to investors. PSE President and CEO Ramon Monzonis in discussions with the Dept. of Finance to possibly repeal the IRR issued by the previous administration, particularly the VAT on transferred properties. Monson echoed the opinion of the Securities & Exchange Commission that when there is an exchange of property, under our tax law, that is a tax-free exchange. He added that the VAT in this case is not really in our Tax Code.
The REIT Law was enacted under the Arroyo Administration but it was during the Aquino administration that the IRR were crafted. This REIT law was designed to recycle real-estate assets by placing them in another REIT company in which the public can invest into by buying shares.