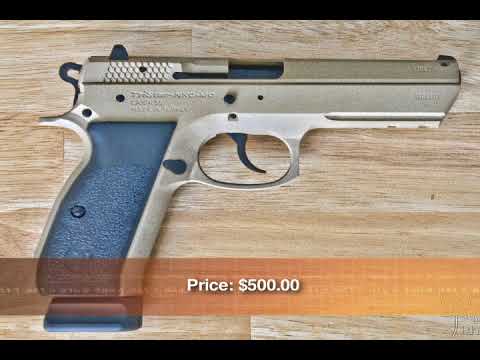 If you are familiar with the CZ 75 designed in Czechoslovakia back in the 70's when it was still Soviet-occupied, this is the Turkish-made version of that handgun. It is manufactured by TriStar Sporting Arms.
This is a hammer-fired, recoil-operated semiautomatic 9 mm handgun. The new TriStar T-120 has a slide and barrel made of forged steel over a lighter aluminium frame that measures 4.7 inches.
The overall length is 8.2 inches while the width is 1.35 inches.
Overall height is 5.05 inches. It has a capacity of 17 plus 1 rounds. This handgun has fixed black sights and it has black polymer or checkered grips. The trigger is 13 lbs for double action or 6 lbs for single action. In the US, it retails for $500.00.
On the range:
Loading was never a problem, and the gun locked open when the magazine was empty. For accuracy, the experts had variable results depending on the ammunition used but over-all, the T-120 had admirable accuracy. The verdict for the T-120: it is a solid performer and very suitable for everyday carry.