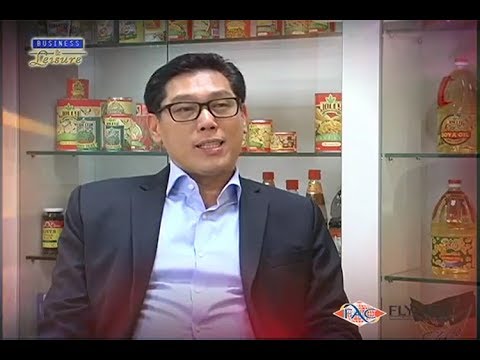 This is a brand that many of us are familiar with-Jolly. But how did the company behind this popular brand and other equally favourite brands as well start?
Mr. Lucio Cochanco Jr., president of Fly Ace Corporation.
His father's family came from Cabanatuan City where his grandfather owned a rice mill. This was also where Lucio and his brothers were born but when he turned 6 or 7 years old, his mother thought of migrating to Manila to give the children a better education.
Like all traditional Chinese families, the parents got the children involved in the family business very early on. Theirs was a typical Chinese family's business set up where the store and office was on the ground floor and the family lived on the second floor. The young children ran errands, deposited their daily sales to the nearby bank and made regular inventories of their rice supply.
Now, the company is celebrating its 20th anniversary, and Jolly, the much-loved brand, is one of the most recognizable now.
And there is also the Dona Elena line of Mediterranean treats like olive oil, capers, olives, tomato sauce, pasta and anchovies. The company separated the brand to allow it to cater to a specific category.
In the beginning when their brands were not yet well known, they had great difficulty in looking for retailers that would carry their brands. But through perseverance and good marketing, they eventually penetrated the big supermarkets.